Home » Post!Sync, Post!Sync News
TIVO Alert: Justin and Ellen, Together Again!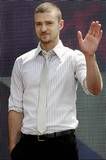 Justin scheduled to appear on Ellen Tuesday, January 19th
According to Ellen's website, Justin is scheduled to introduce his long time friend and the first artist on his Tennman Label, Matt Morris!
If you've been following Ellen's tweets, you'll know that she loves the new musician MATT MORRIS. He was discovered by JUSTIN TIMBERLAKE and was the first musician signed to Justin's label — now he's here to perform for Ellen! And who better to introduce him than the guy who found him? Justin Timberlake himself will be here!
Check your local listings for air times!